It's no surprise that Dubai is one of the top visited cities in the world. With its golden beaches, luxury hotels and shopping and of course the lively nightlife, Dubai sees almost 17 million visitors each year.
But knowing what to include on your packing list for Dubai can be difficult. As Dubai is a city in a Muslim country (the United Arab Emirates), people are often unsure what is allowed to bring into the country and what clothing guidelines to stick to. For women especially, there can be uncertainty as to what you should and shouldn't wear.
Having lived in Dubai for over five years now, I can tell you that, for the most part, a lot of clothing guides for Dubai are not accurate. Perhaps they were ten years ago, but times are most definitely changing.
For just a short stopover in Dubai, check out my 2-day Dubai itinerary, or if you're going to be there for longer, check out my 7-day Dubai itinerary.
PIN FOR LATER!
Disclaimer: This post contains affiliate links. This means that if you purchase anything through a link, I may earn a small commission. As an Amazon Associate, I earn from qualifying sales. This is at no extra cost to you. You can read my full disclaimer here.
In my packing list for Dubai, you'll find:
Women's clothing packing list for Dubai
Essential accessories to pack for Dubai
Things not to carry while travelling to Dubai
A free downloadable packing list for Dubai
Women's Clothing: Packing List For Dubai
I'm not going to go into so much detail and tell you how many pairs of socks or underwear to bring you. You've got that covered! What I am going to share with you is some of the essential clothing to add to your packing list for Dubai.
Things for women to note when packing clothes for their Dubai trip:
You can wear short shorts and vest tops while walking around, at parks, etc
You may be asked to cover your shoulders, wear longer shorts in public places such as shopping malls or government buildings, which have a stricter dress code
You can wear a bikini or swimsuit at the pool/beach but you should throw on a cover up when going back into your hotel
When visiting the Grand Mosque in Abu Dhabi, you will need to bring a headscarf and you will be given an abaya if you have any tight clothing or not fully covered. Even if wearing skinny jeans you will need to wear an abaya (this is non-negotiable!).
Here's our essential clothing for women to have on their packing list for Dubai.
A lightweight scarf
There are many reasons you will need a scarf in Dubai. During the winter months it can get cool in the evenings and people mostly choose to sit outdoors while dining. If you choose to sit indoors you might find yourself even colder if they are blasting the AC!
A scarf is also very useful when going into a shopping mall or other public areas that require you to cover your shoulders.
If you don't have one already or don't want to use up space in your suitcase, pop to a souk (Arabic market) and test your haggling skills.
Swimwear
Don't worry, as a tourist to Dubai, you don't need to wear a burkini at the beach! Both bathing suits and bikinis are acceptable swimwear. Personally I love Seafolly bikinis.
Be sure to cover up when you head back into your hotel or go to the beach restaurant. And bear in mind that topless bathing is a no-no in Dubai!
Light Sweater
If heading out to the desert in the evening time, it can get pretty cool, especially during the winter months between November and March.
One thing everyone should do on their Dubai trip is a desert safari, including desert dune bashing, sand boarding and barbeque dinner at a desert camp.
Bring a cute light sweatshirt to keep you cosy during cooler desert nights.
Sun Hat
A cute sun hat is necessary for beach and pool days, and also to keep up with the Dubai fashion
Comfortable Sandles
Dubai isn't known for epic walks, unless you head further out to the mountains for some hiking. In fact, Dubai is not very walking friendly! However, when walking around the Marina, JBR or Downtown or in the largest shopping mall in the world, Dubai Mall, comfortable shoes are a must. Given the heat, a comfortable pair of sandles are the best choice of footwear to add to your packing list for Dubai.
I got a pair of Crocs Sandals a few days before my first trip to Dubai (over 5 years ago) and I still wear them on a weekly basis.
Light Sundress
A light sundress is a must for your packing list for Dubai. Dress it down during the day with some sandals or dress it up at night with a pair of heels and some jewelry.
Face Masks
Face masks are currently mandatory everywhere in Dubai, other than on the beach or at a restaurant and we're unsure of when they won't be required. So be sure to bring a few breathable face masks with you when visiting Dubai.
Essential Accessories For Your Packing List For Dubai
While Dubai is one of the world's most fashionable cities, there's more than clothes you need to think about when making your packing list for Dubai. As already mentioned, I'm not going to mention the usual accessories you need to bring on any trip – camera, sunglasses, money – but here are the essential accessories you should bring with you on your Dubai trip.
Travel Insurance
A must for any international trip is travel insurance. I can't specify that enough. Too many times I've seen people get ill or get into an accident while on a trip. Obviously, we never plan this to happen, that's why it's called an accident! But the best way to ensure you're always covered is to have travel insurance.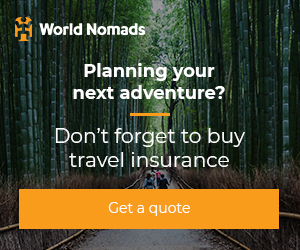 Visa
If you are from one of the countries that can get a visa on arrival, wohoo! If not, check out the Emirates website to find out how you can get your visa for travelling to Dubai.
Portable Power Bank
If you're out for the day and like to use your phone for photos, posting to social media, or for maps to get around, take a portable power bank with you to ensure you never run out of phone battery.
Even if you have your usual charger with you, you won't always be able to find somewhere to plug it in.
Electric Fan
This is something I carry around with me everywhere when I leave the house. In the summer months, the temperature can reach up to 50 degrees Celsius and don't get me started on the humidity!
I have had people stop me and ask where they can get an electric fan to keep cool.
Hydration Spray
Did I mention it gets really hot and humid in Dubai? If there's one thing you must add to your packing list for Dubai its a good hydration spray.
Perfect for going from day to night without having to go all the way back to your hotel. Simply refresh, add some lippy, and good to go!
Travel Adapter
The UAE uses the same three pronged charging port as the UK/Ireland so if coming from another country, check to see if you'll need an international travel adapter.
I've used this one for some years now as it works worldwide and I love having some USB ports to charge multiple devices at the same time.
Reusable Water Bottle
I mentioned about the heat before, right? It's so important to keep hydrated when out and about. Most hotels will give complimentary water every day, so fill up a water bottle before you leave the hotel for the day.
I like these collapsible water bottles when travelling as they don't take up much room.
So there you have the essentials to add to your packing list for Dubai. Other items which should also be on your packing list for Dubai are:
Copy of your passport to bring around with you day to day
Your prescription for any medications you need to bring with you
Sunscreen. Lots of sunscreen
UAE Dirham – while most places accept card, it's handy to have some Dirham on you for tips / taxis.
Things not to carry while travelling to Dubai
As with most countries, there are rules and regulations about what you can and can't bring into the country, and the UAE is no different. Here are some of the items prohibited to bring into the country (so don't add them to your packing list for Dubai!):
Any narcotic drug, including cocaine, hashish, poppy seeds, heroin.
Prescription drugs that are on the banned list, unless you have a prescription from your doctor that you can bring with you
No more than DHS100,000 in cash
Weapons
Gambling tools
Goods imported from boycotted countries
And finally…get your free downloadable packing list for Dubai below
Planning a trip to Dubai soon? Why not check out my 2-day Dubai itinerary or my 7-day Dubai itinerary for some ideas!
Read also: Can You Visit Dubai On A Budget?